UK Medical Device Regulations
What it means for device manufacturers in the UK?
Manufacturers based in the UK would need MHRA medical device registration and would not require appointing UKRP as per the UK medical device regulations
What it means for device manufacturers outside the UK?
A manufacturer based outside the UK and willing to place a device in the Great Britain market, will need to establish a UK Responsible Person, who will take responsibility for the product in the UK as per the UK medical device regulations and the device must undergo MHRA registration. The foreign manufacturers may avail UKRP services offered by the third party regulatory service providers.
Timeline of change (Visual timeline) with the class of device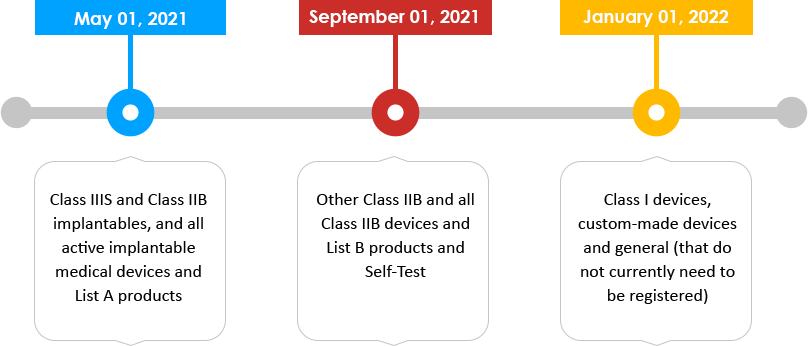 What the MHRA wants in the future?
The device manufacturers can include UKCA mark on their devices starting from 1st January 2021 as per the MHRA regulations however MHRA accepts the CE certification issued under EU MDD, EU AIMDD, EU IVDD, EU MDR and EU IVDR till 30th June 2024. The UKCA marking of devices is mandatory post to this timeline and must have UKCA marking according to the MHRA requirements to continue the marketing of devices and IVDs in the United Kingdom.
How to register under the new regulations?
It is a 2 Step process:
Receive a UKCA mark from a UK Approved Body and
Register with the MHRA as per the MHRA requirements